A work of art is a memory of time past.
A bold affirmation?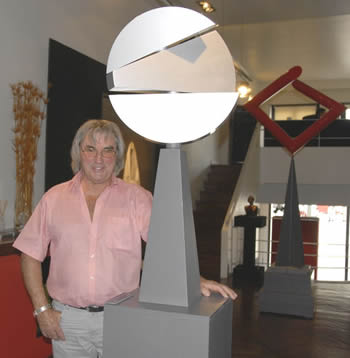 Not really! The materials used, the methods of working, the tools employed, "the subject," or "non-subject," "the style," so many signs of a period when the work of art was created.
Hence, we are able to say that an artist is a humble chronicler of humanity.
From the most remote times, man has left his mark on his surroundings.
Artistic expression was born from times when useful objects were shaped with studied and carefully executed refinement that was not essential to the object, or like the drawings or bas-reliefs of Lascaux, had already transcended completely their purposeful nature,
Altamira …..
the enigmatic alignments of Carnac,
the pyramids of Egypt,
Stonehenge,
the Greek temples,
Easter Island,
the traces of the great South American and North American civilizations,
India,
North Africa,
China….
The creators of the great accomplishments of modern times, such as the builders of cathedrals, enter into this same chain of collective memory of all humanity, thus forming a great family of creators, without distinction in race or geographic location, while marking out the path to a planetary civilization.
Belonging to this great chain of creators, whose continuing line is present in all authentic works, is my only aspiration.
Nicolas TIMAR